As a destination for recruitment-type planned trips, general group-arranged trips, and general-group order-based planned trips in Fuchu City
This page is a collection of materials for travel agencies that are being considered.

Fuchu City, Hiroshima Prefecture is, needless to say, a city of manufacturing.
Actually touch, make and feel.
It will be a valuable experience that cannot be obtained anywhere else.
Please come to Fuchu City, Hiroshima Prefecture!

[If you are considering a school trip destination, please see here]
[To travel agents] Subsidies for bus fares, etc.
Using subsidies related to sightseeing in Fuchu City, tours using chartered buses and taxis are now very affordable for meals, experiences, and guides in the city.
In addition to attractive sightseeing spots, there are many local treasures in familiar places such as local historical heritage sites and scenic spots rich in nature.
There are two types of subsidies for different people.Please use all means.
Period October 4, 10 (Monday) to March 3, 5 (Friday)
Fuchu City Charm Rediscovery Tour Subsidy
[Target] Travel agents with offices in Fuchu City
[Target tour] Fuchu city sightseeing
Come to Bingo Fuchu
[Target] Domestic travel agencies
[Target tour] Fuchu city and out-of-town sightseeing
[Contact]
Fuchu City Tourism Division
Phone: 0847-43-7141
The source of travel
We are focusing on general sightseeing trips, and commercialized "sightseeing" and "manufacturing" and posted them in the travel source.If you need other information, please contact the person in charge.
The source of travel
Other travel-related materials
Fuchu (Pamphlet)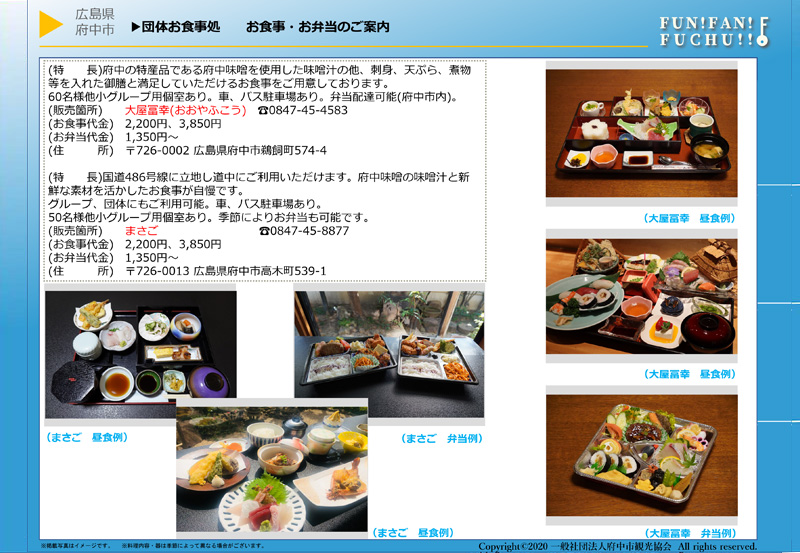 Lunch / lunch information
Fuchu City has dining facilities that can be used by groups.Both quality and quantity are perfect.Please use it.
Kiterasufuchu
Bingo Fuchu Hana navi
Fuchu town walking map
Detailed map of exit street
Cycle map
Fuchu Tourist Brochure