Rental Bicycle
Bicycle rental | Fuchu City Tourism Association
Let's rent a bicycle around Fuchu City, Hiroshima Prefecture!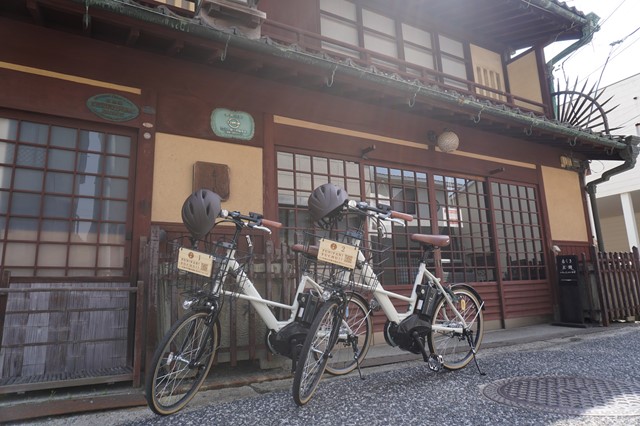 Start your journey here!
Fuchu City Tourism AssociationWe rent bicycles at.You can get tourist information efficiently when you rent a bicycle.Please feel free to call us and drop by.
Where should I go by rental cycle?
Introducing recommended cycle routes in Bingo Fuchu.
You can see the historical white-walled cityscape and mountain scenery"Up and down route"
Travel back in time to the ancient times with a townscape that retains the remnants of a post town"Tenryo up and down / back alley route"
Around the southeast of the temples and shrines where you can get the red stamp"Bingo Fuchu Goshuin Tour South Route"
Around the northwest of the temples and shrines where you can get the red stamp"Bingo Fuchu Goshuin Tour Northbound Route"

Four attractive courses starting from the Fuchu City Tourism Association, where you can rent a bicycle, or the Fuchu City Tourism Association upper and lower branches.
Which course do you experience Bingo Fuchu?

[View Bingo Fuchu Cycle Route]

Please rent a bicycle and find your favorite scenery!
Industry
Bicycle rental, tourist information
Name
Fuchu City Tourism Association
Location
559-2 Fuchu-cho, Fuchu-shi, Hiroshima
Contact Information
0847-43-7135
Business hours
Hours: 9: 00 ~ 17: 30
Rental time: 9: 00-17: 00

Contact
Fuchu City Tourism Association
usage fee
Reservation method: Advance reservation by phone
Rental fee: Within 4 hours: 500 yen, 1 day: 1,000 yen
Vehicle type: Electric assisted bicycle
Number of units: 3
Remarks
Requests: (Accidents, etc.) You are responsible for any accidents while using the rental cycle.
Damage, etc .: If the rental cycle is damaged or lost due to an accident, etc., the user is responsible for compensation.

* There are no children's bicycles or child seats.
Related Links
You can rent a bicycle at Yano Onsen Park Shiki no Sato ...
At Lake Hataka Sun Sports Land in Fuchu City, Rentasa ...
(One company) Fuchu City Tourism Association Upper and Lower Branches also rent bicycles ...